Shanghai, China, 18 Jan, 2021. Inkmaker Shanghai, the manufacturer of integrated dispensing systems in China for IM GROUP, has announced that it has partnered with Fast & Fluid Management Asia (FFM Asia), becoming its new certified channel partner for China, in an auspicious start to 2022.
The union—that will see FFM Asia's renowned POS (Point of Sales) tinting solutions business collaborate with Inkmaker's leading expertise in the coating, paint and ink industries—will be of mutual benefit to both parties as they strengthen their foothold in the Greater China market.
"The expertise of Inkmaker in the paint and coating industry made them an obvious choice for us to further boost our share in the critical China market. Their strong background in the in-plant tinting system and our strong relationship with their teams in Malaysia and Indonesia made the decision easier," said Balu Kuppuswamy, General Manager, Fast & Fluid Management Asia.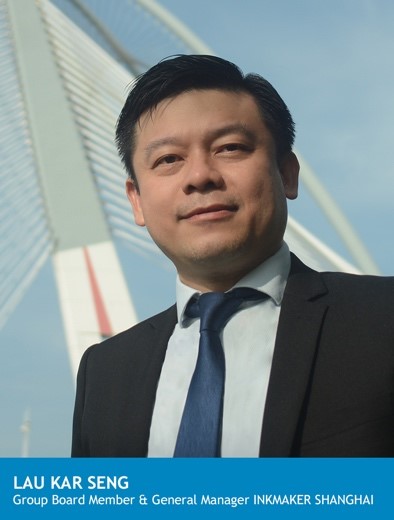 FFM Asia, a long-term partner of Inkmaker, has for 30 years built a name for itself as a reliable and innovative leader offering a complete range of paint dispensers, mixers, shakers, and software suitable for a wide range of applications.
Lau Kar Seng, GM of Inkmaker Shanghai and board member of global technology leader IM GROUP concluded, "Fast & Fluid Management Asia is an elite addition to the global brands that we are already associated with. We are confident of building on this association and further strengthening it in the years to come. The ability to customise every single solution to match the specific requirements of our clients remains our biggest USP."
Founding member of IM GROUP, Inkmaker, is the only European dispensing-system manufacturer to have an assembly plant in China. This in turn has contributed significantly to its building a prominent network throughout greater China. In 2004 Inkmaker Srl (Italy) and Inkmaker Asia Sdn Bhd (Malaysia) formed Inkmaker Shanghai Ltd Co. The company has since grown to become a recognised and trusted manufacturer, of integrated and automated dispensing and mixing systems, and the preferred partner of many of the largest industry names in their respective sectors across China.
As FFM Asia's new certified channel partner for China, Inkmaker Shanghai will now focus on the sale of their following products:
a) X-SMART PRO – An entry-level automatic sequential paint dispenser with high productivity and accurate results. It requires no assembly and comes with up to 16 canisters in 2.25 l.
b) X-PROTINT – A high performance automatic sequential paint dispenser that comes with 16 canisters and is bi-directional, solvent-based and water-based. It is built with future-proof technology for VOC-free colorants across Asian markets.
c) Harbil Series and AT8000 for in-plant and specialty applications
i) Harbil – Built on ZeroPurge™ piston pump and AutoDrive™ technology to ensure future-proof efficiency and reliability for business operation.

ii) AT8000 – Built on DVX® pump technology, AT8000 is for high-volume paint departments that need the fastest, most reliable, and highest capacity tinting solution.
d) Mixers and Shakers
i) SK300 and SK550 1.1 Shakers – SK300 is the entry model in the shaker range of Fast & Fluid. With its capacity of 35 kg, it is suitable for all points of sales with a low to medium volume paint turnover. The heavy-duty paint shaker SK550 1.1 incorporates high-quality components.

ii) GX300 and GA480 Mixers – Entry level and high-end automatic mixers, with high-performance and intelligent features.
For more information contact: Lau Kar Seng, GM of Inkmaker Shanghai and board member of IM GROUP on +86 158 0057 9380 (China) or [email protected]